Luc Laurent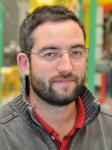 01.58.80.85.80

Matlab's softwares (DOE, Surrogate Models):
Publications
French conferences
2011

L. Laurent, P.-A. Boucard, B. Soulier. Cokrigeage et stratégie multiparamétrique pour l'optimisation d'assemblages. Actes du 20ème Congrès Français de Mécanique, CFM 2011, Besançon, France, 29 août - 2 septembre 2011.
Communications
2014

L. Laurent. Global optimisation on assembly problems using gradient-based surrogate model and multiparametric strategy. ECCOMAS Olympiads II of the 11th World Congress on Computational Mechanics, WCCM XI, the 5th European Conference on Computational Mechanics, ECCM V and the 6th European Conference on Computational Fluid Dynamics, ECFD VI, Barcelona, Spain, July 20-25, 2014.
---