Thomas Miras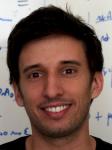 Anciens étudiants et stagiaires

Doctorat 07/10-07/13

Post-Doc COPPE Universidade Federal do Rio de Janeiro (UFRJ), Brazil
Publications
Revues internationales ACL
2012

T. Miras, J.-S. Schotté, R. Ohayon, Energy approach for static and linearized dynamic studies of elastic structures containing incompressible liquids with capillarity: A theoretical formulation, Computational Mechanics, 50 (6), 729-741, 2012. doi

T. Miras, J.-S. Schotté, R. Ohayon, Liquid sloshing damping in an elastic container, Journal of Applied Mechanics, 79 (1), 010902, 2012. doi
Conférences internationales ACTI
2012

T. Miras, J.-S. Schotté, R. Ohayon. Linear vibrations of the structures containing viscous liquids. Proceedings of the 6th European Congress on Computational Methods in Applied Sciences and Engineering, ECCOMAS 2012, Vienna, Austria, September 10-14, 2012.

2010

J.-S. Schotté, M. El-Kamali, T. Miras, R. Ohayon. Vibrations of liquids inside tanks in micro-gravity. Proceedings of the IV European Conference on Computational Mechanics, ECCM 2010, Paris, France, May 16-21, 2010.
Conférences nationales ACTN
2011

T. Miras, J.-S. Schotté, R. Ohayon. Amortissement du ballottement d'un liquide dans un réservoir élastique. Actes du 10ème Colloque National en Calcul des Structures, CSMA 2011, Giens, Var, France, 9-13 mai 2011.
Communications COM
2011

J.-S. Schotté, T. Miras, R. Ohayon. Damped vibrations of structures containing liquids. The IV International Conference on Computational Methods for Coupled Problems in Science and Engineering, COUPLED PROBLEMS 2011, Kos Island, Greece, June 20-22, 2011.

2010

R. Ohayon, J.-S. Schotté, M. El-Kamali, T. Miras. Vibrations of structure containing liquid in microgravity. Sloshing analysis with surface tension effects. The 9th World Congress on Computational Mechanics, WCCM 2010, Sydney, Australia, July 19-23, 2010.
Thèses de doctorat et HDR
2013

| | |
| --- | --- |
| | T. Miras, Effets de la viscosité et de la capillarité sur les vibrations linéaires d'une structure élastique contenant un liquide incompressible. Thèse de doctorat, Châtillon, France, 3 juillet 2013. |
---